If you're new to budgeting and looking for a system to help you manage and control your spending then take a seat because this is just for you.
As you review different ways to manage your money, you may have come across envelope budgeting which is an excellent tool to do this when you're just starting out or need to be more disciplined about your money management.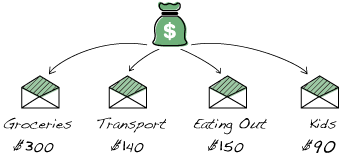 What is envelope budgeting?
It's pretty simple. At the beginning of the month or at each pay period, you divide your paycheck/income into categories to be placed in envelopes that you'd spend from every month. Once you run out of money, that's it, there's no more spending money from the envelope until you're paid again and it's time to replenish your envelope. Here's a great video about this from NCN blog:
However, you may be thinking, "I'm not carrying wads of cash around in envelopes!" I totally hear you, because I wouldn't either!
But, there's a solution for that!
Envelope Budgeting With Prepaid Cards
Again, this method is pretty simple. We're just upgrading it to modern world standards by using prepaid cards to manage the money itself instead of withdrawing cash and placing them into physical envelopes.
Step 1: $
You get paid. This is the easy part. Check the Money Management S.O.P for more details in the previous module.
This will actually help you find money that you hadn't realized was there for you spend or save. Get a budgeting spreadsheet and list all bill and expenses to get started. You'll then understand where you money is going and then make good decisions about where they should be going. Every dollar has a job around here. Myexceltemplates.com created this personal bi-weekly budget template lets you keep track of your bi-weekly income and expense according to your pay schedule. I personally use a hacked version of this spreadsheet in addition to Yodlee which helps me track all expenses, income and any monies left over without a job or purpose.
Step 3: Pick a prepaid card that fits your needs.
I happen to love Kaiku! This prepaid card, unlike Suze Orman's prepaid debit card that drains your account with 22 fees – has the following benefits:
$3 per month fee
Direct deposit ($750 monthly avoids the fee!)Use your smartphone to load checks to your account
No ATM fees when you use one of the 55,000 Allpoint ATMs
Out of network ATM fee: $1.45
Have Amazon or Paypal? Transfer money from those accounts onto your Kaiku card
Card to card transfers
No charge for paying bills
No charge for purchasing the card
No charge for activating the card
No charge for replacing the card
Step 4: Consolidate Your Expenses And Load The Card
Decide which expenses need to be closely monitored and transfer the amount to the card. Personally, my categories include:
Grocery shopping
Eating out
Personal products: This includes makeup, hair and skin products.
Shopping: Amazon. Target. I avoid Target unless I must go in there. Otherwise, Amazon gets my money and with Amazon Prime, the product can be here the next day. You can see how that might be a problem with impulse spending. I limit myself by having a predetermined spending limit with them.
As you go throughout the month, your bills should be paid from one of the above. You don't need to use the same categories that I've set up. Feel free to create your own for categories that need the most attention. With regards to your static bills and expenses, you can create an account or prepaid card for the exact amount you need to cover all monthly expenses with a small cushion just in case you have an unexpected expense.
What amounts do you have allotted for fluctuating expenses?